How to Tackle Drug Cost Hiccups Related to Medication Adherence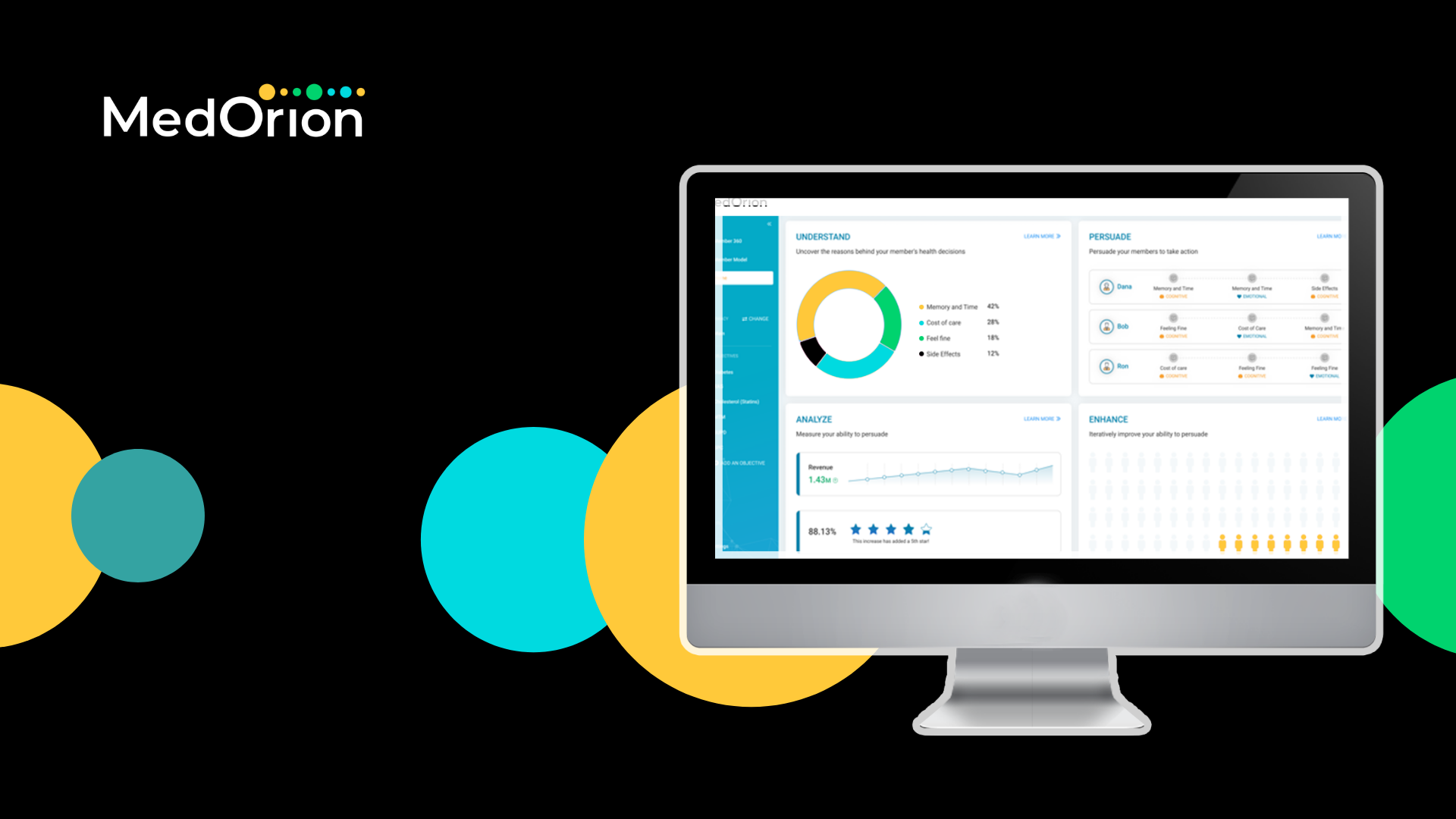 By Shai Levi, COO and CO-Founder, MedOrion Technologies 
MedOrion's Health Behavior Management platform can identify members who aren't prioritizing their refills because of cost barriers; here's what you need to know
In a 2018-2019 Medical Expenditure Panel Survey led by the Urban Institute, nearly 13 million adults put off or did not purchase needed prescription drugs because of high costs, limiting their access to care and impacting medication adherence. 
Findings also showed that more than 25% of Medicare beneficiaries spent more than 1 percent of their family income on their out-of-pocket prescription drug costs: essentially, for every $100 dollars spent $1 went towards paying for prescription drugs in one year.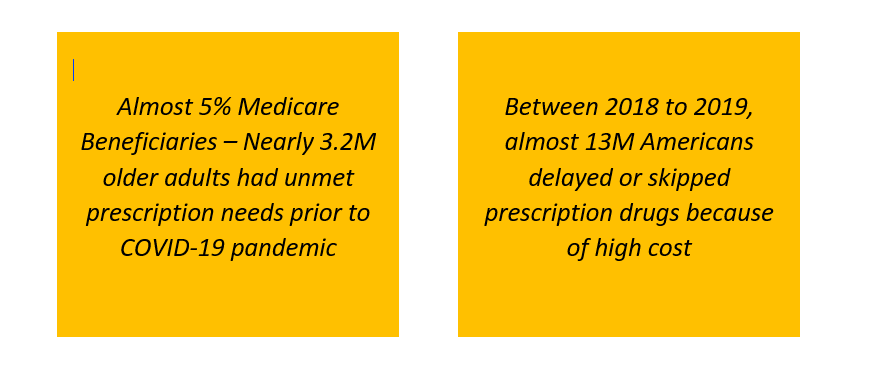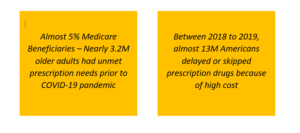 Inaccessibility: an epidemic in itself
Inaccessibility and lack of drug affordability among underserved communities – but not only – are long-standing embedded 'mutations' in the U.S. healthcare system. Regardless of coverage status, millions of members are living with unmet medical needs and the rising prices of prescription drugs have become a significant health concern. 
While COVID-19 hit shortly after this study, experts expect that the issue will surely resurface once we shift from pandemic to endemic mode, obliging Congress to deal with the Build Back Better Act and drug policies that would limit out-of-pocket costs, drug prices, and expand coverage for millions of members to ensure they can afford the prescriptions that they currently cannot pay for.
Millions of Americans are feeling the burden of rising drug costs, and if a given household has more than one member with two or more chronic conditions that require continuous medication, that burden can also become the greatest barrier.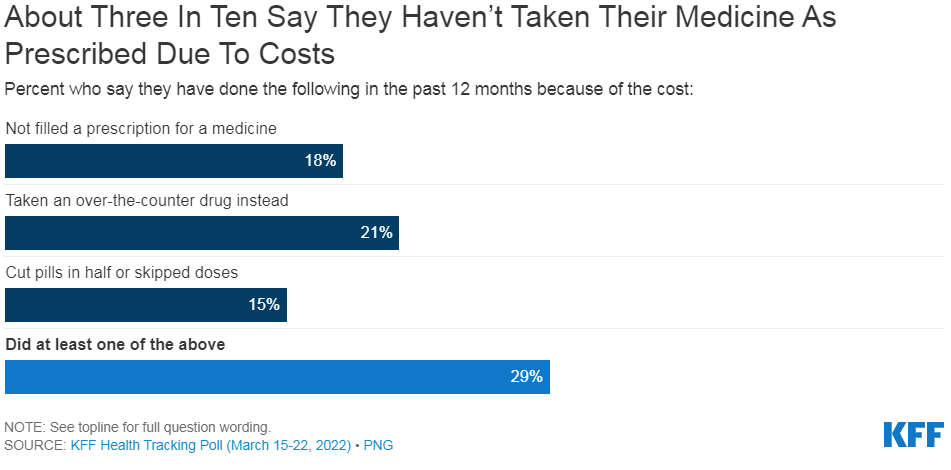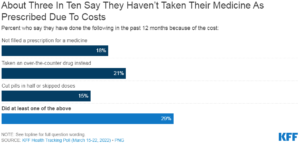 https://www.kff.org/health-costs/poll-finding/public-opinion-on-prescription-drugs-and-their-prices/
"While 6 out of 10 Americans report taking at least one prescription drug, 29% failed to take medications as prescribed because of the cost: 19% did not fill their prescription at all, 12% admitted cutting pills in half or skipping a dose"
What about individuals who can afford refills but don't prioritize their health?
To highlight similar groups or populations that don't refill drugs although they can afford it, their individuals don't prioritize their immediate health needs. Approaching this through a possible scenario, Bob is a 71-year-old retiree and health plan member who has a prescription to manage his diabetes condition. He has been taking the medication for some time but since the COVID-19 pandemic, he has been reevaluating his personal spending priorities and decided to cut on unnecessary expenses. Bob also "feels fine" so he doesn't see a need to prioritize his health. 
"By identifying individuals of this population, MedOrion can help members to understand the benefits of prioritizing medications now to avoid future complications of their chronic conditions and a much higher future costs of care. This can improve member outcomes and also help health plans meet their quality goals, a win-win to both member and plan," affirms Shai.
This is where MedOrion's Health Behavior Management (HBM) platform works to the plan's advantage, offering the tools to understand the barriers behind Bob's lack of adherence (i.e., the WHY) and propose alternatives before his health condition spirals and becomes irreversible. 
Changing the Cost Barrier Mindset
MedOrion's SaaS AI-based HBM platform helps health plans adapt to real-world psychological factors and dynamic healthcare environment that influence member's decisions and tackle barriers related to certain health behavior, and address them in proactive and supportive ways so that each member can more easily move towards better health behavior and wellbeing, in real time. 
Essentially acting as an AI Behavioral Scientist, MedOrion automatically analyzes members' clinical and demographic data, combined with social determinants of health (SDoH) while also covering for gaps in member data to find specific barriers and motivators to action. By breaking down the complexity of health data, behavior, and environmental changes into individualized persuasive communication, health plans maintain full visibility at all times, can adjust course as needed and execute strategies more effectively, all this combined with priority governance tools and control.
This constant learning from clinical data and member interaction results in improvements year over year, so members are guided in real time in a helpful, non-abrasive manner towards better care and health outcomes, achieving wellbeing at more reasonable costs. Furthermore, member loyalty and adherence to recommended courses of action also rise over time. 
What kind of message would Bob receive?
"Taking your medication every day is extremely important to continue managing your condition and keep you healthy in the long term while maintaining your current costs of care. Do not cease medication before speaking with your doctor. They may be able to recommend different prescriptions, generic brands and dosage options."
"If you are finding it hard to afford prescription refills now, contact your doctor for more information about alternative medications with equal or better coverage under your current plan."
"There is always an alternative to help you stay in good health and obtain affordable prescriptions."
Using a personally-relevant communication approach, health plans can help members like Bob successfully overcome the cost barrier mindset while reinforcing relationships with its membership, saving money, and aligning with the health plan's goals.
Affordability remains one of the top three barriers why people choose not to take their medication, and remains a bigger issue for members who are currently taking four or more prescription medicines. Addressing this sensitive subject is not an impossible mission, and with the help of MedOrion's Health Behavior Management platform, building resilience is becoming an easier task for leading health plans in the U.S. for 4 consecutive years.